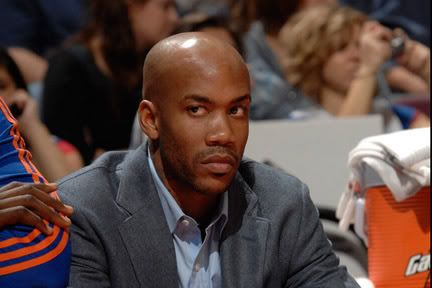 Stephon Marbury refused Head Coach Mike D'Antoni's offer to play in their game against the Pistons. The Knicks organization has been fed up with Steph's antics that one source said Marbury will be suspended immediately.
Marbury has no right to demand not to play. Any NBA player doesn't have that right. Marbury is being paid almost $20 million by the Knicks, and he can sit if management asks him to work? And for those who say that its just fair because Steph was treated badly by being benched in other games, its the company, in this case the Knicks, who decides what's best for them. Marbury doesn't fit D'Antoni's system, and they should've bought out his contract at the start of the season. Marbury's ego will just destroy a locker room. Yes he can score 20+ points in a game, but that doesn't make you a good player. If there is some people to blame, its Donnie Walsh and Jim Dolan. D'Antoni asked them to buy this player out because he is not going to use him anyway, but the owner refused. I don't get how you could pay so much to make your team worse (acquiring Steve Francis, Stephon Marbury, Jerome James), but can't buyout Marbury's contract to make your team better?
To the Knicks management, I hope you learned your lesson with this recent chapter in the Marbury Saga. LeBron or Bosh wouldn't want to join a team this chaotic, so you guys better clean this whole mess up before 2010.